( cyclocane is a CYCLOne and hurriCANE tracker by hayley )
Hurricane Forecast - Tropical Weather Outlook
Eastern Pacific Basin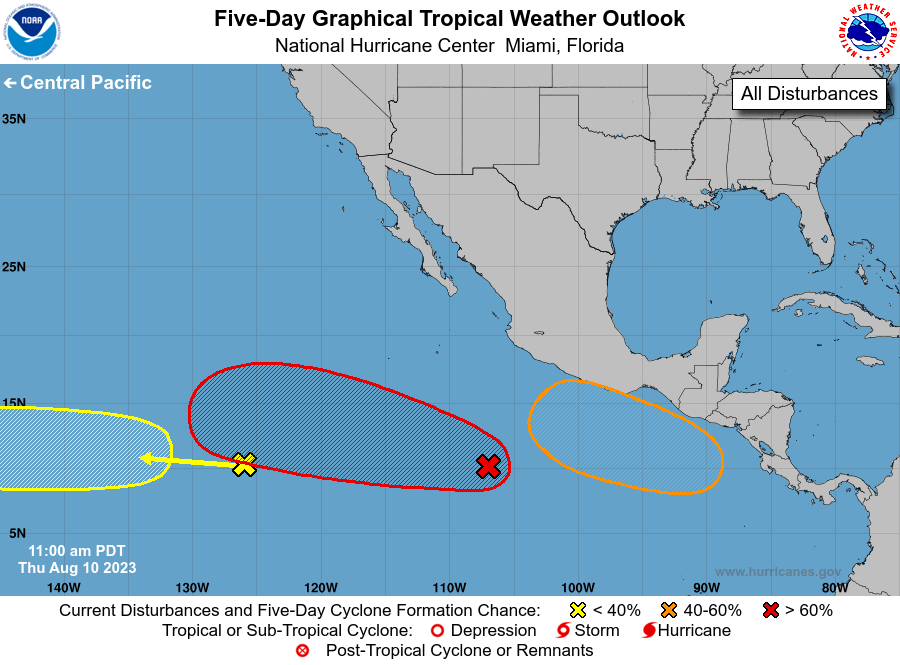 Eastern Pacific Active Storms
No active storms
0% chance in 48 hours / 0% chance in 5 days
Shower activity associated with a broad low pressure system centered about 1100 miles west-southwest of the southern tip of the Baja California peninsula has become less organized since yesterday. Environmental conditions have become unfavorable and tropical or subtropical cyclone development is not anticipated. Additional information on this system can be found in High Seas Forecasts issued by the National Weather Service. This is the last Special Tropical Weather Outlook that will be issued on this system. * Formation chance through 48 hours...low...near 0 percent. * Formation chance through 5 days...low...near 0 percent.
Atlantic Basin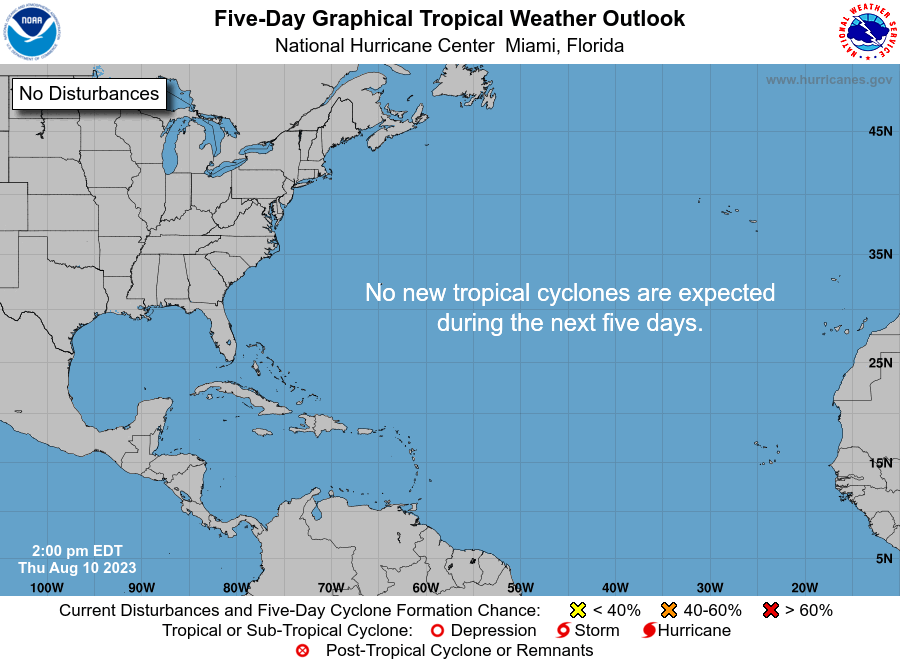 Atlantic Active Storms
No active storms
When is the Tropical Weather Outlook updated?
Every day, during hurricane season, the National Hurricane Center issues tropical weather outlooks at the following Pacific and Eastern times.
5 AM PDT / 8 AM EDT
11 AM PDT / 2 PM EDT
5 PM PDT / 8 PM EDT
11 PM PDT / 2 AM EDT
---
Hurricane Forecast | Tropical Storm Risk | Hurricane Spaghetti Models | Cyclone and Hurricane Names
---
Cyclocane | National Hurricane Center | Joint Typhoon Warning Center | Japan Meteorological Agency
site by Hayley Croft
Want to help support this site?
Tell your friends about Cyclocane
make a donation - totally optional but completely appreciated
Make a monthly donation or a one-time donation to help support ongoing costs with Cyclocane.
Play solitaire and track all of the cyclocane storms at the same time at Hurricane Solitaire.
---
---